Walking Portugal – Bike and Hike
Walking Portugal trails is a beautiful experience. We walk along the fantastic «Silver Water» Aqueduct, a 16th century engineering work of art, reaching a beautiful traditional Alentejo country house. Along the way the small farms and aromatic herbs that grow by the aqueduct will keep you company. At the farmhouse it's time to stop for a freshly squeezed lemon juice, a coffee or a tea and relax for a while.
The return to Évora is made by bike through an easy ecotrail, a traffic free green lane. Downhill, no effort!

Getting in to town we'll take you through Évora's unique historical center and follow the aqueduct inside the city walls, through the narrow and white streets.
Tour is suitable for children if they can cycle and enjoy walking.
We have bikes for kids and the cycling path is easy, but we have to do some stretches on the asphalt road, so your child should have experience to participate on the tour.
| | |
| --- | --- |
| DEPARTURE/RETURN LOCATION | 4 kms from Évora, at Arraiolos road (turn right direction "Percursos pedestres"). Transfers to the meeting point can be organised. 4 € per person |
Read terms&conditions before booking our Hike and Bike tour in Évora. Cycling and walking Portugal trails are wonderful experiences. Don't miss it.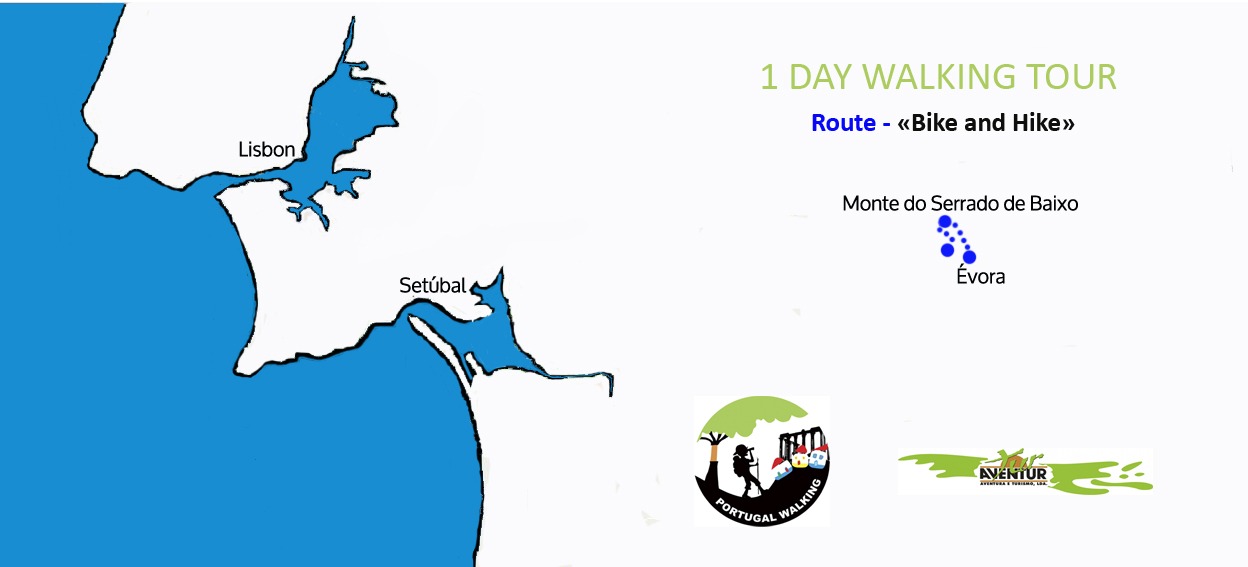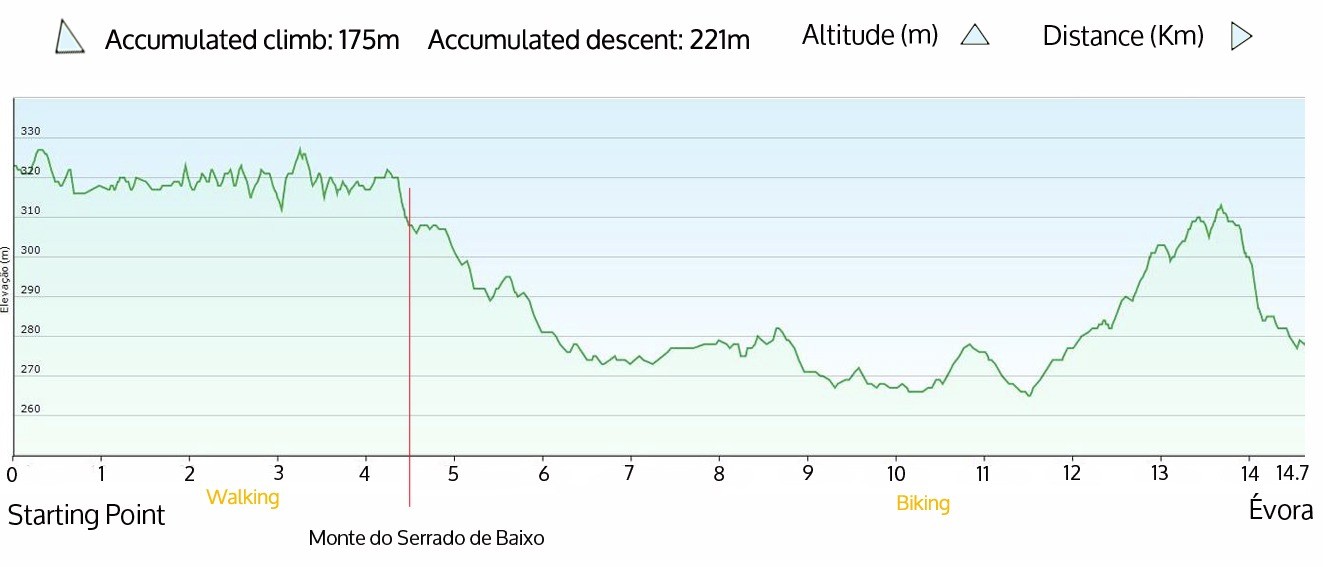 *Guided Tour
** Self Guided Tour
| | |
| --- | --- |
| | Minimum 2 Adults |
| Per person | Under request |
| Children (up to 16 years old) | Under request |
| Guide | |
| Rental Bikes | |
| 1 Special Pastry | |
| 1 Drink | |
| Transfer to the beginning of the walking | |
| Personal Accident Insurance | |
| VAT tax | |
Max. number of participants with this price: 12
Experienced riders can complete the entire tour by bike. Cycling near the aqueduct is good fun but you need to love cycling. There are some steps where you have to step down from your bike and the path is narrow. The path along the aqueduct is really a walking path but possible to cycle in.
Picnic lunch:
Can be organised and then this would be a full day tour.
Price for full day tour with picnic:
49 € per person for a minimum of 4 adults
35 € per child under 12 years
Max. number of participants with this price: 12
Min. number of participants with this price: 4
Turaventur uses the REDUNIQ @Payments System. These payments are made in a simple, practical and secure way. The payment link is sent to your email, which will be redirected to a secure UNICRE page. Here the customer places the card details and makes the payment. After the data is validated and authorized by the bank, the transaction is finish. At the end you are notified of payment via email.
You may do this tour at any date, subject to availability. Just fill in the booking form .